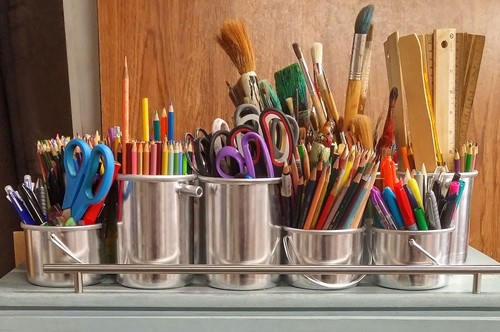 If you are just beginning your own crafting adventure, then you will want to stock your craft closet with a few basic supplies. When you have the right tools and instruments at your disposal, you can easily take on any craft project that inspires you.
These are the craft supplies that any beginner should have:
Several Pairs of Scissors
Scissors are the one tool that you need for almost any type of craft project. While you are likely to have at least one pair of scissors lying around the house somewhere, it's important to remember that the basic pair of scissors that you have in your kitchen may not cut it for some of those intricate projects you want to do. It is best to purchase at least several pairs of crafting scissors in different sizes. Larger scissors are often best for larger projects while smaller scissors are ideal for crafts that require delicate cuts.
Paint Brushes of Various Sizes and Styles
Painting is a medium that is used in many crafts from woodworking and miniatures to sculpture and canvas creations. If you plan to become a serious crafter, then you are going to need a lot of paint brushes. Different paint brushes will accomplish different techniques, so it's important to purchase brushes of various sizes and styles. With a solid paint brush supply on hand, you can feel confident knowing that you will be ready to begin any craft that inspires you.
The 3 P's: Pens, Pencils and Paints
Coloring is one of the most basic crafting concepts, and you will want to have all types of coloring supplies available so that you can bring your beautiful creations to life. Colored pens and pencils are perfect for drawing, calligraphy and scrapbooking. Paints can be used most obviously for painting but also for ceramics, pottery and more. In addition to buying your favorite colors and shades you also will want to consider vibrant, pastel and primary hues, as this allows you to shade as needed and add depth when possible to any project.
Cardstock of All Colors
As you begin to stock your beginner craft supply closet, you will want to start picking up cardstock of all sizes and colors. You will find that you have use for sturdy and thick cardstock as well as lightweight cardstock that can easily be folded or bent as needed for particular projects. When you have a stockpile of cardstock at your disposal you never have to worry about having the right piece of paper for the next step in your project.
Bottles and Sticks of Glue
Glue quite literally holds most crafts together, and you will be surprised by the various types of glue that can be found down any crafting aisle at the store. Some of the most common types of glue that you will want to have on hand include all-purpose glue, tacky glue, felt glue and glue sticks for hot glue guns.
These basic supplies will help you get started with nearly any type of crafting project. If you are an adult who is looking to get into the crafting craze then it will be worth it to invest in these products and utensils.